21 May 2005
*Sigh*
Seven Weeks so fast passed liao!I was doing filming and busy taking
photos yesterday..
I hope these videos n pictures could keep all my special moments in
coca cola...
Environment:
-Quite surprised as the department looked quite messy and old, not comparing to Marketing Dept...
For the past 7 weeks, I had been entertaining Chen Yian and Cindy
by doing all kinds of foolish actions in our department. Eventhough it is
stupid but I and the both of them enjoy it!!!haha..
Task:
-Folding letters most of the time (6000 at least)
-Calling suppliers regarding sponsorship
-Did Telesales to take down orders and complaint
We met great and siao people like Tommy, Kin, Jed and Patrick.
Initially, I thought that they are a bunch of unfriendly people. However,
we get to know each other better as weeks passed...
We too met troublesome people like the General Manager who was always spot-checking us,
and never like us...Stupid people who like to make use of us and dunno how to use the printer!
For 7weeks, this is how much fun we have..
I fought with Kin and squeezed his nipple..
They kept calling me "Big-sized"...
Did arm wrestling with Jed...
Almost kana beaten by tommy for asking too many Qns..
Make fun of Patrick as if he is not our boss..
We keep demanding for free meal (Last day, PAtrick brought us out to eat at Jack's
Place!)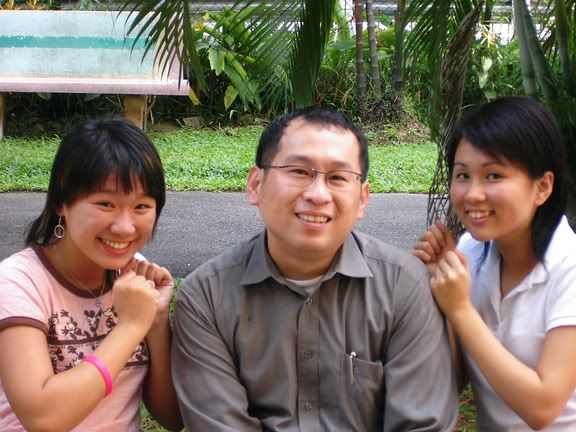 From top left (Clockwise): Jed, Tommy, Kin and Patrick!
The people...
PAtrick, my supervisor, a great father and a good boss with cheeky personality!
Tommy is so nice to us, treat us like his children...always bring us out to eat!
Kin is a playful guy who looked so unfriendly and gt AP intially..
Jed that act likea "Big Bro" to us and help us all the time!
Of coz, not forgeting Chen Yian, Cindy and the rest of the NP interns and NTU interns..
They are all special people who brought fun and colours to my life in coca cola...oh yah, the security guards and the canteen people too!
Believe me...This is the 7weeks that are so precious to me..It's sad to say goodbye but I believe
we will meet again if we are fated to be....
Hope everyone live well, eat well and work/study well...
S.H.E...Forever!!!