24 January 2006
City Girl Meet The World-KL
So excited for the trip!!!I have great fun man!!!
Thanx to Ms. Strawberry & Mr.Mango!!!Without them, the whole trip will be boring..
Mmm..I shall rate the trip 8/10, minus 1 pt for my mama's presence & 1 pt for messy & being disorganised..
My mama
LIED
.
She said she will not tag along but tried her luck by making herself so pitiful infrt of my cousin..
And so??My cousin pestered me and Ah pei..Kns..
Beware..this is going to be a super long entry..And i mean
SUPER LONG
!!!
Urm..I try to write lesser and show more pic alright???
I try ok...haha!!!
Day 1- 19/01/06
Board the bus at boon lay at 9am...
There were only 6 passengers including us..haha!!!Cool???
Wah..so romantic hoh..is the trip for the both of us..
Woah..After 5hours, we reached KL!!!!
In KL..traffic jams are everywhere..
Morning jam, Afternoon jam, night jam..midnight oso jam..
While waiting Ah pei to be released from work..
Callie kept us entertained with his fashion show..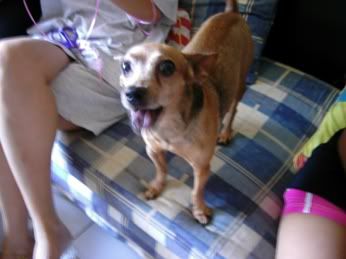 Cute hoh???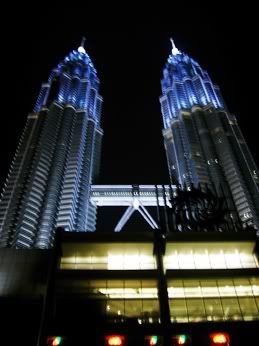 We went to KLCC to shop once Ah pei came back from work..
Wah..the thing there damn expensive loh..
A billangbong boardshort can cost like 100odd sing dollar there when in spore i can like get less than 100 loh!!!Daylight Robbery!!!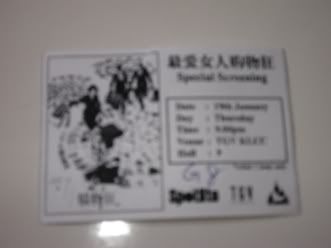 Anyway..Go there also not to buy thing one..
Was dragged down by Ah pei to go watch movie with her!!!
Go KL watch Golden Village..so lame hoh!!!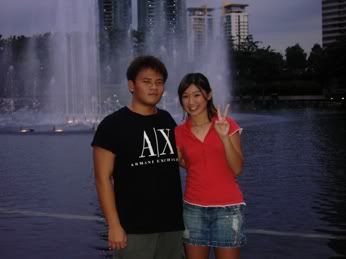 Outside KLCC..
My dinner- Sarawak Laksa..
The hawker kept talking to me in melayu till i said i am s'porean..
Inside KLCC..
It looks like our Suntec City..
And this Ah Pei a.k.a strawberry and her bf, Wei a.k.a Mango!!!
All of us din buy anything..Of coz..So expensive!!!
So we headed home...
Day 2 - 20/01/06
SunWay Lagoon here we come!!!
Is the day that jasonz going to face the challenge..
A day to overcome all his fears in excitement and..
Most importantly to challenge his enemy, the water..
Beware..photos damn lot..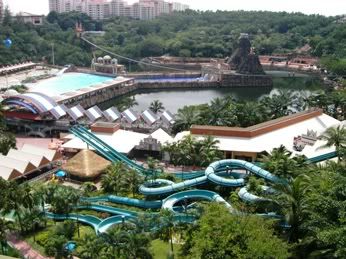 By then, Jasonz was already shivering..
He was pretty nervous i guess..till he twisted my head..
Me and Ah pei..
Dry Park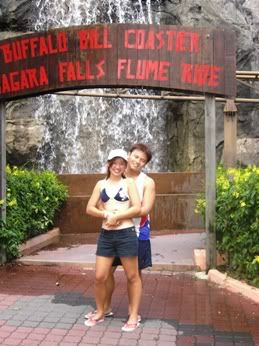 Read the board above us..
Jasonz was so frightened on one of the ride that he was near to passing out!
The only animal in Sunway Lagoon - The Tiger!!!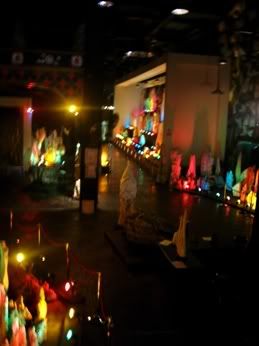 Wasn't much fascinated by the tiger..I entered the limestone museum..
So colourful..like in heaven loh!!!
But at the same time, i felt eerie..
Me and Jasonz..
Double Dates!!!Abit blur..sian!!!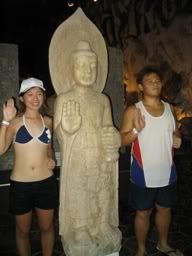 Me and Jasonz posing to be Buddha..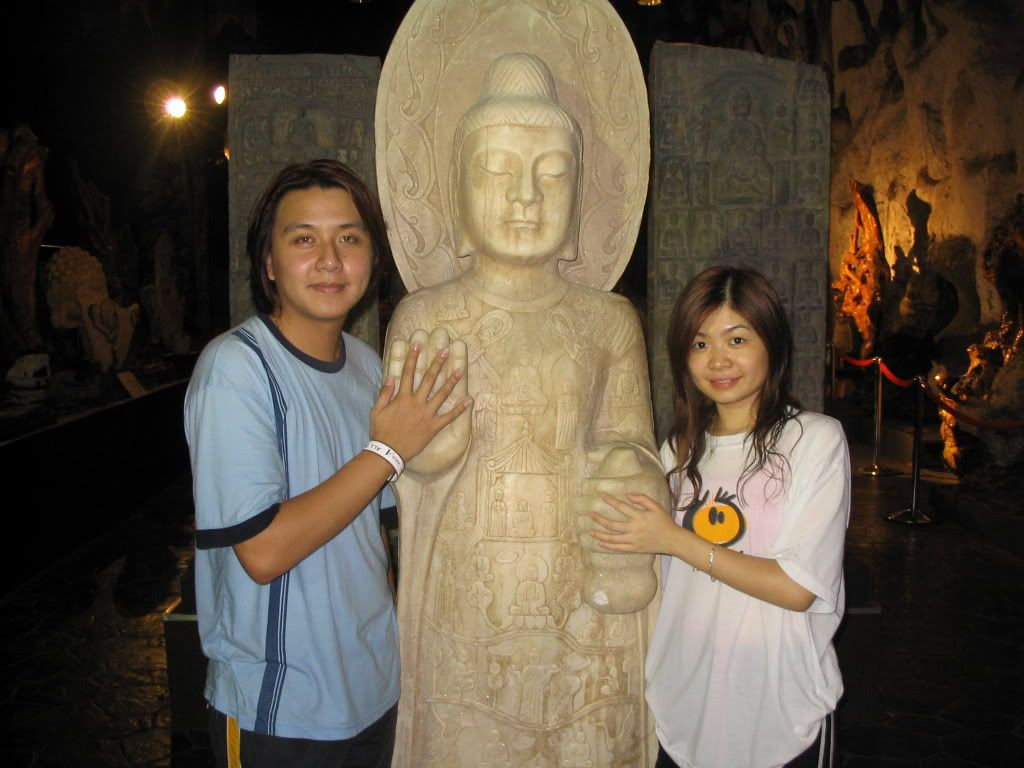 The COPYCAT!!!
Ok..We took some rides..
Look Jasonz..he could hardly smile..hahaha..
Most of the time, ANTISOCIAL...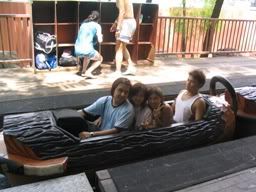 This is the Big Snake Ride..cannot rem the name..
But this is the ride that i was talking about that made him turnt white!
Back & ALIVE...!!!
"The Lost city of Gold"...
Mmm..Very dangerous!!!A roller coaster that I felt i will be thrown out anytime!
At one pt of time..I was floating above my seat!!!Heng I tightened my belt!!!
If not, u wun see me le!!!
The lamest ride..Woah.."So S-C-A-R-Y"!!!
Camera sux!!!
Only me and Mango dare to sit "Topgun"!!!So fun lah!!!
Both of us were complaining when it was upside down!!!
Our slippers nearly fly out!!!
A ride that i want to take..But cannot coz nobody taking..
Wet Park - The place that Jasonz got to conquer!!!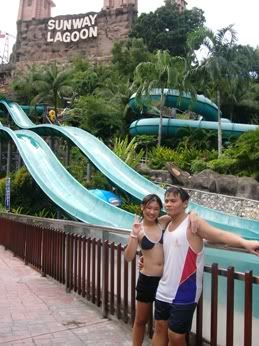 Yeah!!!Jasonz conquered them..Quite lame lah..
Wet park only got 2 rides..so lame!!!
I can shoot...muhahahahhaahah!
Me: Shoot u!!!
Jasonz: Argh!!!I hate WATER!!!
Me and Ah pei again..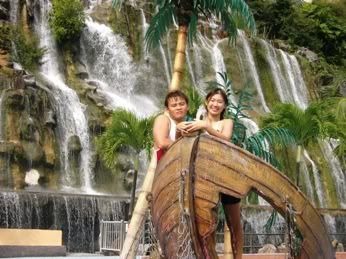 Me & jasonz AGAIN...He always dun stay near me when take foto!!!
*pissed*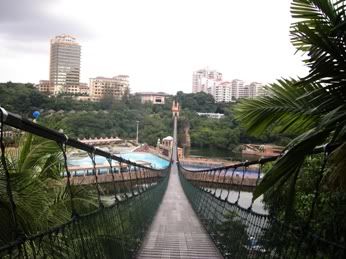 The bridge view!!!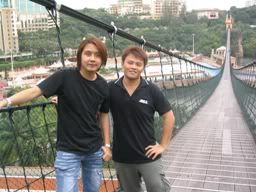 The Freaks...
The mei nus...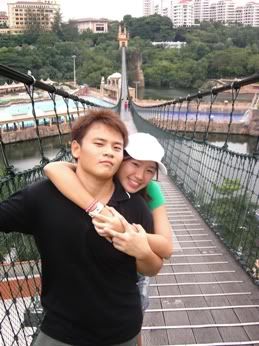 The lovely Dovey!!!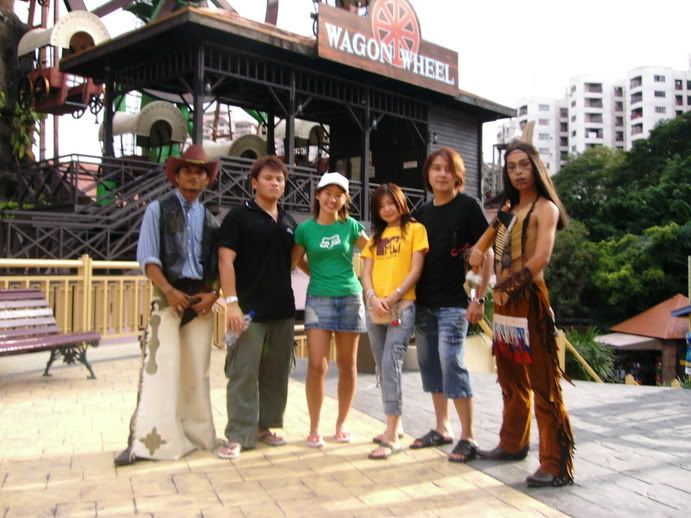 Thhhheee CowwwBoyy & thheee reeed indiaaan man & us..
We headed for dinner after that..
Ah pei kept pestering us to go coz she wants to shop..kns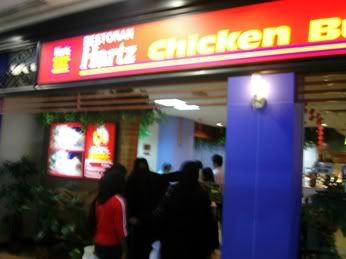 Went to Hertz Chicken Buffet to eat..(Sunway shopping centre)
Imagine all these for buffet....Wah...
After the buffet..we did some shopping..got many bras and tops!!!
Explore the clubs there b4 heading home!!!
Snapped it on the way home..
Quiz of the week: SPot the paper cup!!!
Peeps..Will update about the rest of the trip soon..sleepy..
Jz scroll dwn the next time for my updates on kl trip and so on!!!
Told u will b a super long entry for my bdae!!!
Will put in canoe bash & B52 stingy celebration soon!!!
Sorry for the long wait...