26 May 2005
Singapore Sale had just started this week!!! (Will update fotos)

Being the Kiasu Auntie group, we(Cindy,Siew teng and Grace n myself)met up today to grab all the cheap cheap stuff!!!

Too bad..Siew Teng, our chairman of the Auntie club, did not manage to come due to her part time job!So baka sia!

Hence, the 3 younger aunties went on shopping without her, carrying out the SPENDING competition...

We went to HMV and Far East Plaza to shop around!!! Me and Cindy like some calculative aunties, keep counting the cost of each piece we wanted to buy...

Being the impulsive shopper, Grace start the ball rolling by buying a tshirt from 77th street!
Then, I continued to roll the ball by buying a special skirt from TOSS! Quite short arh..Think can c my backside..haha!!!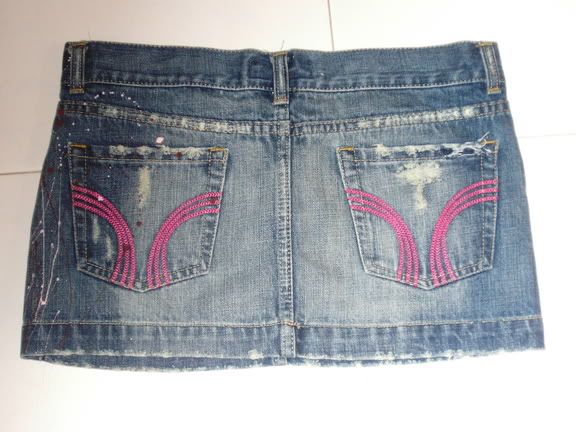 The new Skirt i bought!!!Nice?

*sigh* it's only left Cindy that went on empty handed...AS Cindy did not want to lose in the SPENDING competition, she started buying wateva she c in Far east!!!

She bought a semi-cardigan and held it on her hand but she seemed to keep forgeting what is inside the plastic bag...According to my health knowledge, I can say that she had Really Short Term Memory!!!

I find out that cindy got a very different taste in clothing from me..she got a sarong-denmin skirt...I think very weird leh..but she find it very pretty...

Then, Grace got a super shiny silver slipper!!!Super glaring loh..like some ah go-go singer's dressing liddat! Wah, I din noe Grace gt such beautiful fair leg until she tried on a 3/4 pants..Her leg so fair loh..haha!!!So funny!

Then, we went into some accessories shop and started trying out hair bands..hoho, I thought looked pretty SWEET in those hair band!!!Unlike Grace, who got her hair band covered by her thick bushy hair totally!

In the end, Cindy spent the most!!! As for me, sad to say, I got last place in the SPENDING competition!!!

*SobSob*...eh, think about it, the stuff we buy like most are not in sale leh...