28 May 2005
On 27th of May, 2005...
Sprinters held their very own training camp that lasted for 2days 1 nite..
We meet to put our belongings in the room near our clubhouse. Then, we proceed on to our camp activities..
No ice breaker no games..*Sigh*
So what we did???
Sad to say, we went gym...*Groan*
Me, the always injured girl, was unable to carry heavy weights. I was quite ashamed of myself when i c the rest putting their efforts n sweat to go beyond their limit. All i can do is carry 1 pathetic bar...sad right?
Stupid Lex..bluff me..he took us for running when he told me there will not b any running on the 1st day..*Liar go to h*** man!*haha!!!
After the gyming session, we went for shower before we went Alamin for dinner..
Told them le...I want to go Alahzar as the food is nicer but they wun listen!!!
We were made to behind the alley, on a slope with 3 tables joined together and a lorry that seemed to b moving toward us anytime..
Me and Dennis ordered Goreng Ayam Sambal..n it suck loh! Its sambal tasted more like sweet sauce!!!yuck!!!The 1st time i ate there, they served me rotten egg pattaya..now this..I swear i will never eat there again loh!
Captain(Monkey God) v.s Vice Captain(Mr.Serious)
After dinner, we went back to the room and have meeting..
We were supposed to have some movie session but the meeting lasted for 3hrs!!!
Me and the Weirdo Twins!!!
*sigh*
We went to bed at around 3a.m...
The floor is hard and the air con was freezing...Sad to say, No one hug me to sleep..boohoo!
Who is the Sleeping Beast???
Battle between Ah Bu neinei and Mr. Conservative!
On 28th May 2005, 7a.m,
Argh!!!!!!Got to wake up so early!!! Did not sleep well and got funny ghostly dreams!!!
Baka!!! We prepared ourselves before we set off to our destination---Bt Timah Hill Top!
Read carefully..
We ran to the top not take bus or walk...
I ran till my leg almost collasped sia! All of us were in sweat(yeah,super smelly!)
when we reached the top!
Girl Power!!!MY dearest sister!!!
I wanted to throw my shoes at Junsheng when he led us to another trail to run!
Wah...We rushed to the cooler as if we see some super idol to drink water!!!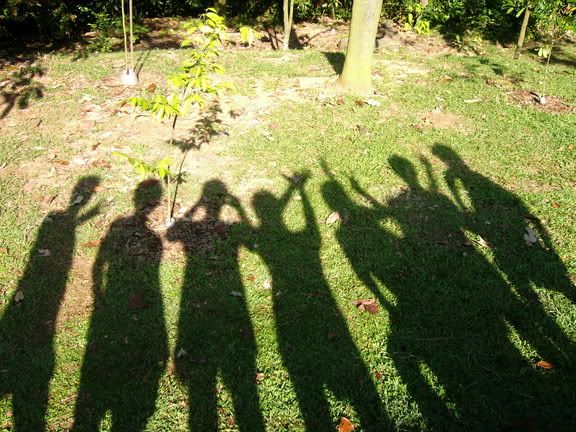 Nice Shadows...Guess whose shadows r these?
SPRINTERS Group Foto!!!
We did some other exercises before we ran back to school..Baka!
The 100push-ups caused my injury to worsen..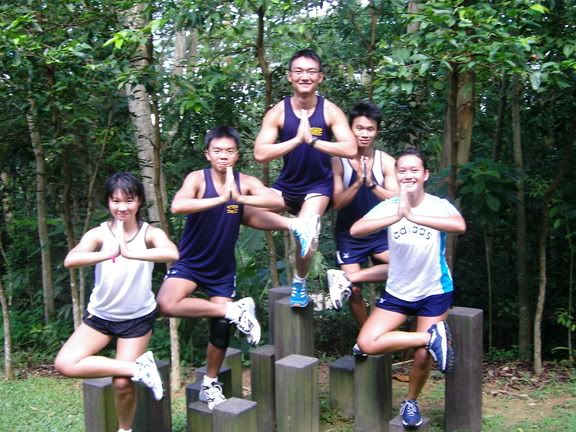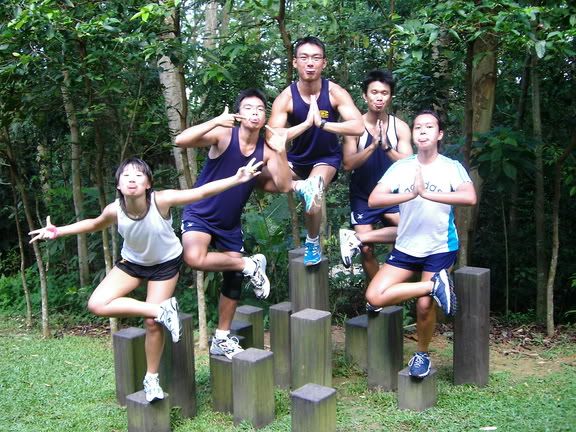 The long-lost 5 African Buddha!
We had a hearty meal (gobbled up food like we nvr eat for 3yrs!)before we said, "Jah-Nei!"
It was a good camp since it trained us phsically and bring sprinters closer to each other...
I really love this bunch of people..They make my life in NP so meaningful!!!
Without them, I wouldn't commit myself in canoeing for so long!!!
The RED team!!!
"LOVE YOU GUYS!!!MUACK!"