15 May 2005
Before mentioning anything about the triple date...I shall announced something important!!!
"I finally get my menses after 1month n 2wks of panicky waiting...Hoho!Not pregnant!"

Nah...Juz kidding on the "Not PRegnant"!!!haha!
Okay..Now back to the main topic.."The Triple Date"
(See those black part..done by the two couples..not me n Jasonz!)
Yesterday, "Me and Jasonz" went for dinner at marina south with "Mun and Bryan" and "Cindy and Yibin". Obviously, Jasonz and I were the earliest!!!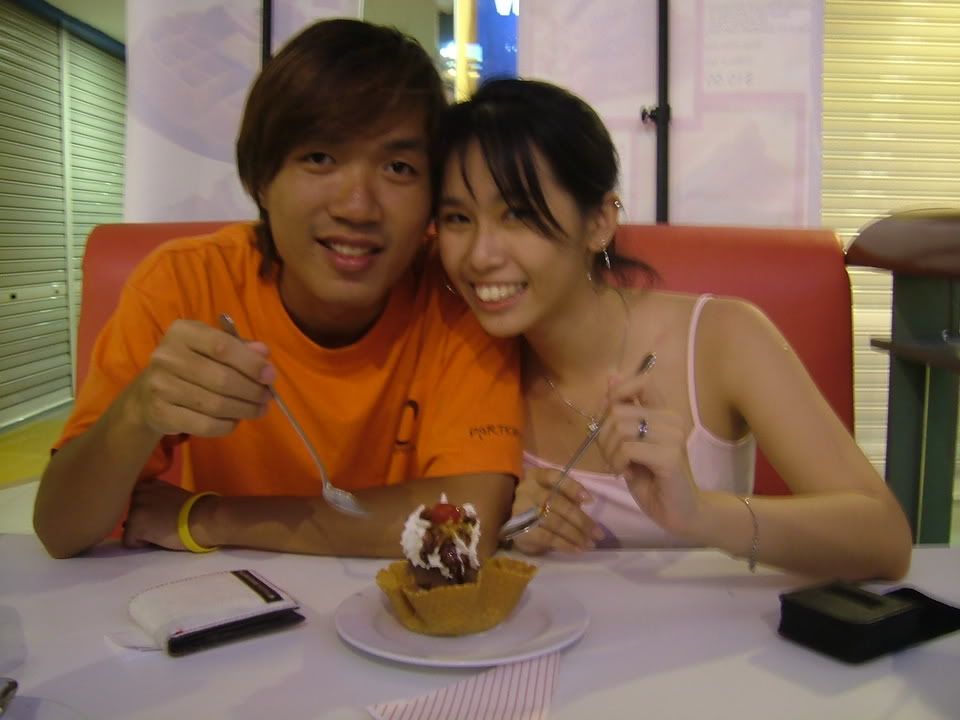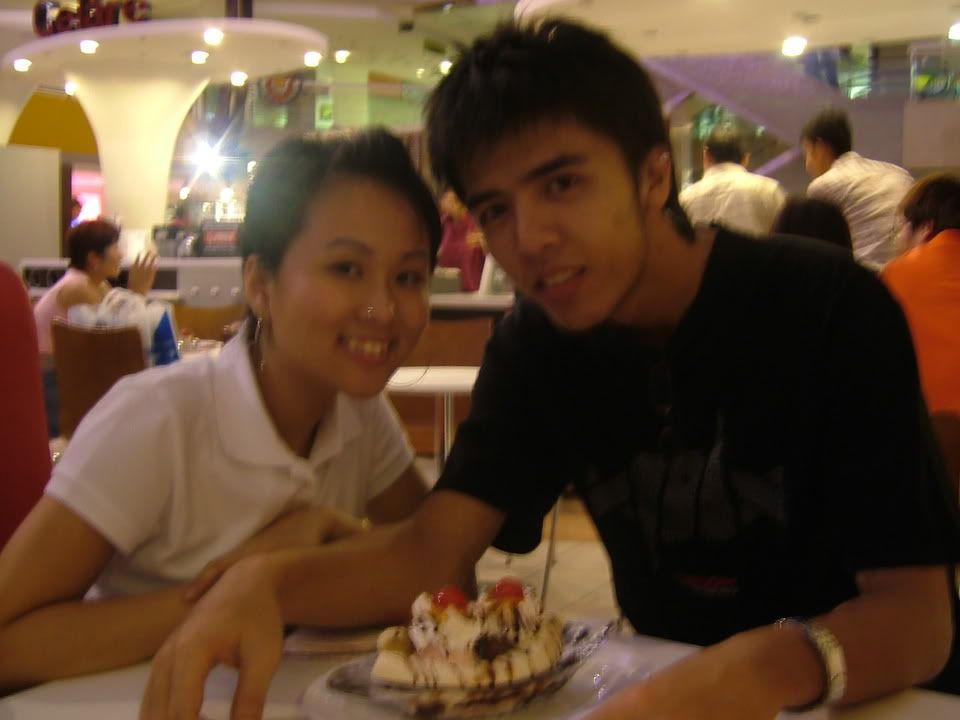 (My chocolate temptation look nicest!!!Yummy!!!)
Mun and Bryan the usual latecomers almost kana beaten up by me(Heng they finally decide to come by cab)..We were supposed to meet at 7 but she only stepped out of her house like 6.30pm loh!So baka rite?
When the three couples met, the guys were obviously quite awkward with each other existence lah..Yibin was most uncomfortable("I guess")since Jasonz n Bryan met n bath together b4..(Yeah, their little didi make fren with each other too!)haha..
U noe what thing? These 3 guys very useless loh! None of them noe how to wash crabs..only know how to eat..But we girls oso dunno how to wash so we jz left the shit to them!haha!HoHO..after a long time, Jasonz and Bryan finally get those crabs washed properly!!!
But sadly, only Yibin and Bryan ate those crabs..
So what the girls ate???Urm..Mun was drinking soup most of the time..yeah, our pot went dry for more than 3 times..Exaggerating rite?haha..Me did not eat much, at least i felt that way..As for Cindy, was eating all the while!
She put alot of vermicilli but it was eyed n eaten mostly by Jasonz..She was hoping up and down when she could not scoop out any vermicilli!haha!Anyway, the way Cindy eat looked like an auntie with one hand on her waist n eat in a very bo chap way..
(Fighting over Rice vermicilli!)
By the end of the day..Bryan had the most prawn heads n shells on his table which made him the

"Prawn King"

and Mun, no other but

"Soup Queen"

in the steamboat round!!!
We were actually planning to go for bowling or pool game but there wasn't any space..Thus, we decided to go to town instead n try our luck..
Who knows...the weather was so mean to us..it started raining heavily..Since we could not travel to MonsterQue, we decided to hang out at Gelare Cafe at PS..Each couple bought a dessert..Hehe, I get "Chocolate temptation" Yummy!
We posed for many(n i mean "MANY")weird pictures
..(Yeah, me n cindy nearly kissed each other)
(S.H.E --- S: Mun, H: Cindy, E: REgina)
Not only that, Jasonz took down many funny videos with our camera...Me n Cindy did many lame movements in the video..haha!!!
Here comes the violent part..
My dear Jasonz almost have" no father's day" yesterday..He called Mun "Big backside"n Mun chased n kicked him upon hearing it!!!
Thus, Jasonz should deserve that

"almost no dick"award

..(Heng arh!if not..no chance to use xiaxue's method!)N me get the

"Siao Charbo"Award

!
As for Cindy, she deserved the

"Ikan Billis"Queen

since she loves spreading her coldest joke about "ikan billis with helmet" to others..
Lastly, Yibin..din seem to impress much in anything..So, I shall give him a

"Worst PErformance" award

!!!