24 October 2005
ICY DAY!!!
"Weez......!"I skated agressively with my both arm swinging left and right..
Thanx to Lex for giving me a "hand" if not, I wun b able to skate throughout the ring..
Jiaying was attached to Jiahui(XiaoHei)..whereas Lex was attached to Dennis..
Me and Weiqiang were the "loners"..we were not attach alone..skating our own most of the time..Lastly, Junsheng, due to his injury, he could only sit at the spectator stand with his two blackie "friends"..Haha!!!His skin colour realli almost the same as his 2 friends lah!!!
Dennis damn cute lah..
It was his first time to skate..and he was super scared till he sweat damn lot eventhough the place is freezing cold lah!!! Not only that, he tried skating and he looked as if he was walking on ice..Damn cool lah!!HaHaHa!He fell down once becoz of one of the staff and think he got blue black le..
Jiaying..hahaha!That silly girl fell down 4 times!!!Her jeans got a huge patch of wet stain on her butt!!!Hahaha!She was even attacked by many many icy balls by two of her juniors she saw there..
Lex and Weiqiang, of course were the more ZHAI one..skate so fast...
Jiahui..Mmm..skate not bad too..
Wah..today so many experts skating around loh..We saw kids as small as 4yrs old skating around with beautiful stunts..There was this girl damn zhai lah..keep spinning around with all patterns and spin in the air..so cool man!!!But one of them nearly made me fall loh..Luckily, i managed to get back my balance with my hands flying all around the places after some distance..
Yeah..i saw Dennis and Lex were laughing at my stupid movements loh..baka!
WHO say canoeist dun skate?
KAWAII hoh???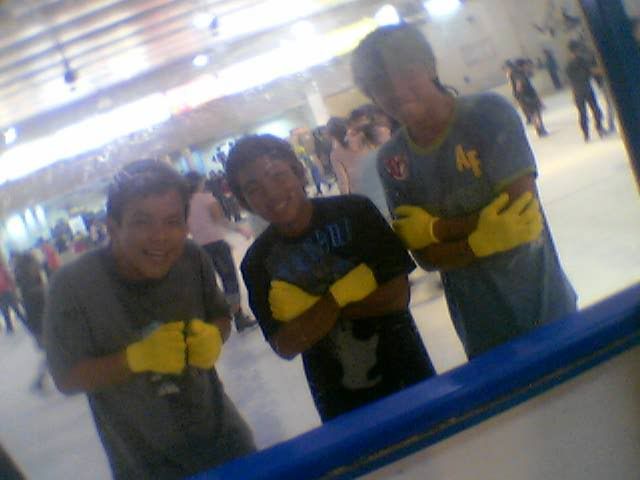 Feeling Cold???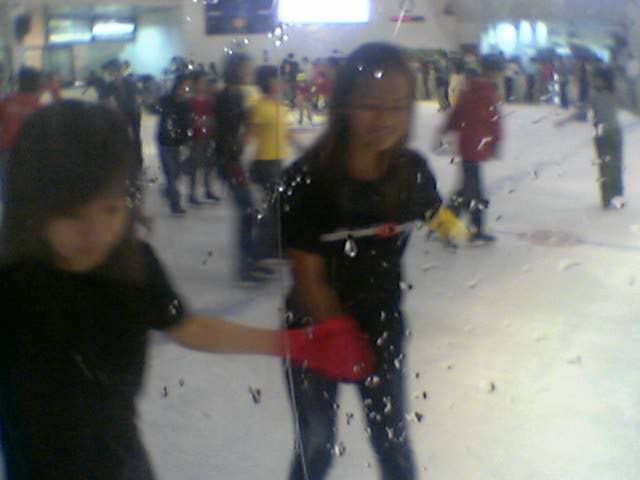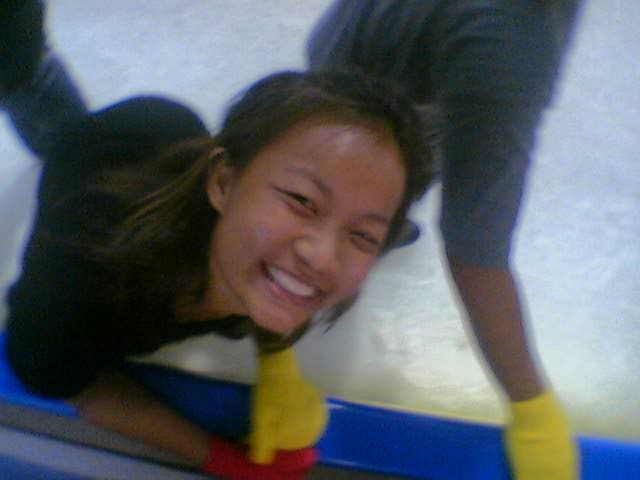 ACT CUTE JIAYING!!!

After those ZHAI action, we continued to watch the Canadian Association Ice Hockey Team in their training..I thought they were damn cute and cool loh, especially the goal keepers..Dennis and gang said they looked like ninja turtle but I thought they looked more like transformers loh..so cute..overly protected by sponge and big board..

*Sigh* How i wish Jasonz was part of the ice hockey team..
But I just heard from Jasonz that he used to skate every week before dislocationg his shoulder..
He also nearly entered the national team and be one of the transformers!!!
Aiyah..wat a pity!!!I thought I could have a bf that is like Takuya Kimura..Aiyah...!!!