27 November 2005
Jasonz's Birthday Special
Mmm..U guys must have waited for a long time man..
Finally, I am ready to write about Jasonz's birthday activities!!!
So..I think it will be a bit lengthy and took a long time to load due to large number of pic!
Ok, i start le huh..
Let me see..Woah!!!i spent like $400 on his stupid bdae loh!!!
Heart pain sia..ouchouch!
So what i spent on him???
Mushroom pot and David Tao's concert..
*heart still cracking*Sian..he better spend more than dat on my bdae!!!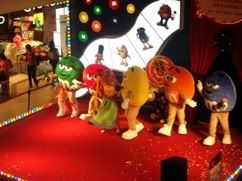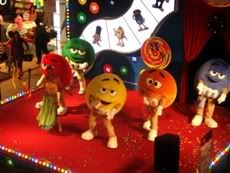 Met the M&M chocolates at Centrepoint!!!
The Mushroom Pot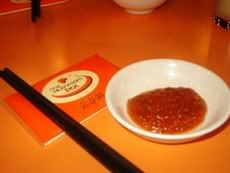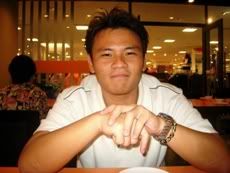 Welcome to The Mushroom Pot!!!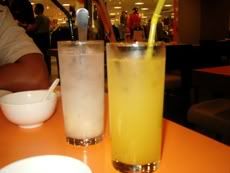 Lime juice with Aloe Vera and Soursop drink!
The aloe vera damn big n juicy!!!
Mushroom..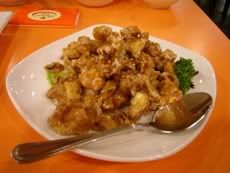 (Left: Mushroom salad
(Rating: 1/10);
Right:Honey Monkey mushroom head)
I like the monkey head!!!
(Rating: 10/10!)

More Mushroom..
Mushroom roll..Yuck!!!All mush!!!
Rating: -10/10

And More Mushroom!!!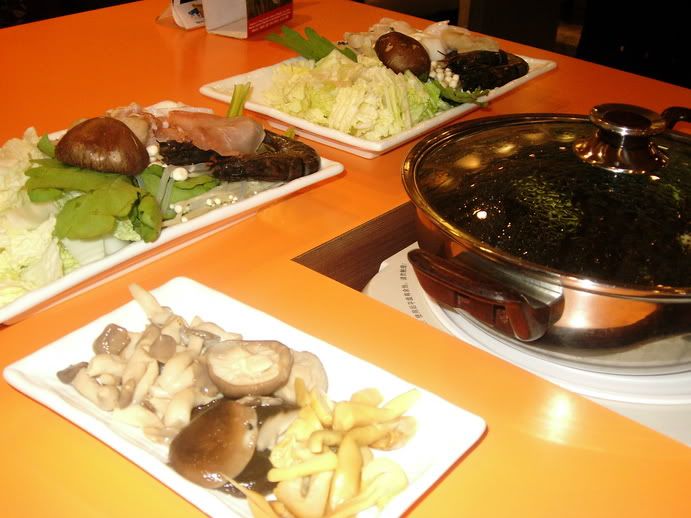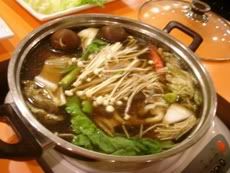 Hot Pot for 2!!!So many mushroom!!!
(Rating: 4/10)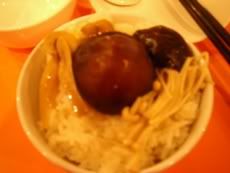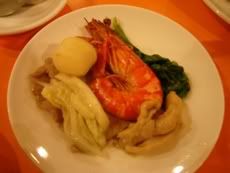 (Left: That is what Jasonz eat; Right: I ate those!!!)
Yuck!!!I really really really hate Mushroom!!!See no mushroom on my plate!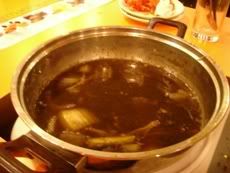 Jasonz got a phobia in mushroom le!!!
Eek..u see the pot black black one!!!Mush soup base!Yuck!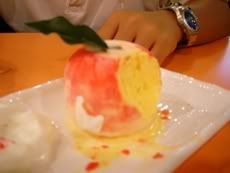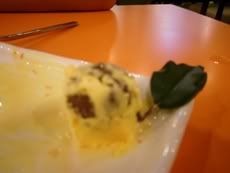 Peach Fantasy!!!Still got seed inside that made of chocolate!
(Rating: 8/10)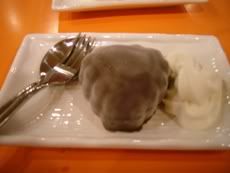 Cherry Choco!!!Very Nice..Plain yet Nice!!!
(Rating:9/10)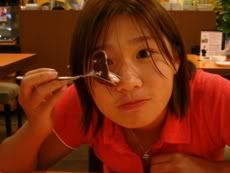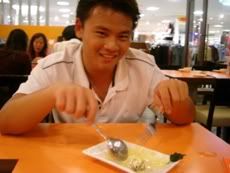 Ice Cream..Of course we enjoy!At least it's not mushroom ice cream!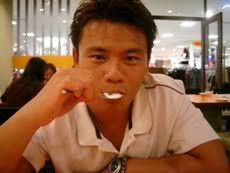 EVIDENCE!!!!
Look what is Jasonz eating???Is FULL CREAM!!!No wonder nvr lose weight!!!
Mmm..I still hate MUSHROOM!!! Mushroom Suck!!!
David Tao's Concert
We attended David Tao's concert n 26th of Nov..
Mmm..What can I say about the concert???
Mmm..I am not a big fan of his, just that Jasonz like him alot!
Well, I do appreciate his music..and many do too!
It was FULL HOUSE!!!
David started it off with several somersaults in the air..
(Of coz with a string attached..Dun tink he wld want to risk his life!!!)
Then he followed on with his songs..
So happy to hear him sing all the songs i like, like "Ai hen Jian Dan", "My anata" and
"Ai wo hai shi ta"...So nice!!!
Mmm..His fans were not very "ON" lah..Mostly in the twenties and so..
So it's hard for Ah tao to make everyone HIGH!!!
But he certainly make many HIGH..just those few "aunties" and "uncles"..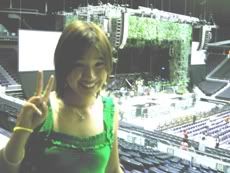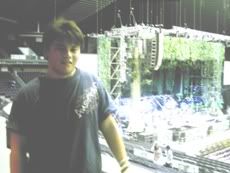 Of coz I would enjoy myself..
I was practically swaying here n there with my electric light stick!!!
I was abit annoyed when i see some not enjoying..feel like pulling them up n said,
"hey come on..let's dance man!!!"
Jasonz was abit worried dat we would block other when we stood up and asked,
"wo men hui bu hui ding dao bei ren???"
So i replied," Who cares?kan bu dao then zai qi lai loh!"
Well..David sang it really well..So R nB..Very NICE!
It's so different from Mingzhe had told me..he told me he bascially sang it with
his guitar and piano..n dat's all..
Mmm..For those younger fans..they were like a troop of army ant dashing toward
Ah tao when he came down to shake hand with his fans..
Some of them sang his song into his mic too..
Woah..it was straining to my ear man..
I like him more after this concert..
I like him as he is always promoting young talents..
He got several singaporean talent to play his music n so on..
He even invited the mentally handicapped ppl to attend it for FREE!!!
So kind hearted or issit part of self-promoting???
Overall Rating: 7/10!!!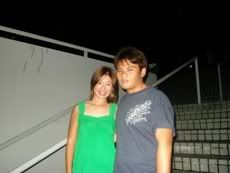 Well..I wrote those things dat Jasonz din mentioned..so maybe u can go his blog n check out too!
Oh yah..After the concert..we went NEWTON to have supper!!
So fattening loh!!!
We ordered BBQ Stingray, Fried hokkien mee and Prawn noodle..
VERY VERY NICE!!!Rate 10 upon 10!!!
Mmm..I thought i shldn't eat so much..
My dad was like insulting me when i reached home..
He commented dat i grew so FAT with laughter!!!
Meanie DAD!!!
Okok..Sorry for the superduper long entry..
Mmm..Hope jasonz really enjoy n he better bring me oversea for my bdae!