31 December 2005
Fun ClubbinG WitH The ChioBus
Boo!I shall write this b4 smth happen amazing in this new year eve!!!
Last night, I was suppose to meet my niece and paul for a dinner which they
last minute back out..Abit sian..Plan everything nice nice but liddat..
*sigh*
However, I still carry on with the plan to meet the girls to chill somewhere nice!
Instead of meeting my niece, I went to Swensen's with Jasonz and have a fast
feast..(Din bring cam so no foto on food!HeHe!)
I reached Clarke Quay at ard 1015pm..
Cheryl was already there..waving like a siao charbo to get my attention..
We chatted awhile b4 we saw Rudith walking..
Wah..The way Rudith walked, like she going to hack someone liddat..So Chu Lu wor..
We waved to her like siao charbo too..
Then Poh Ying the chao ah lian came..
Finally, the latest, Adeline!!!Rch at 1040pm..
Cannot blame her..She rushed down from work..She was wearing this flowery shirt..and
she looked Ah lian..
Hoping to get into MOMO with a free entry b4 11, we dashed our way there..
Rudith, the direction-less girl made us walked a super big round..
And guess what???
We did not get free entry, get sweaty, sticky & hot..
And we do not like the crowd..Too young..
Pretty girls like u7s, prefer older guys u see..haha!
Hence, we decided not to go in and try our luck in other places..
Tried Attica but Jasonz was underaged!!!haha!24 still underage!!!
We kept walking till we passed "One Night Stand", and we heard "free entry for girls" and we just chiong in without 2nd thought!
Poor Jasonz had to pay $20 for entry..who ask u to be a guy???
Btw..we were underaged for it!
ERm..The crowd is weird inside..Erm..Much older than we expect..
We saw old men dancing funnily..like cha-cha..we were all busy laughing..
And the songs abit funny..But the live band is good..People go ra-ra when the band went crazy!
Since we were alreadi there..so we just danced like mad(tempo hard to dance!)..
New experience man!
MArk given: 6 1/2/10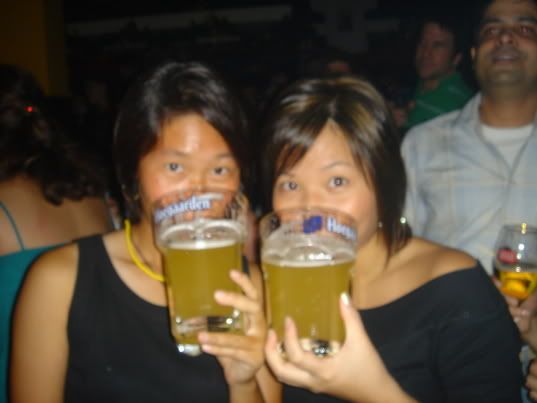 Rudith & Poh Ying..
The Spicy Girls...!!!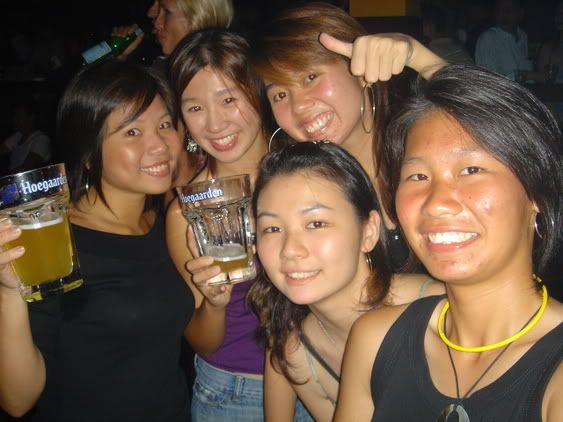 From left: Ginger , Sporty,Posh, Baby & Scary..(haha!)
Did u see that?Every1 are wearing the looped earring except me!!!
Cheryl got the biggest..can hang things man..
We got abit sian of the songs and crowd after awhile..
So we went out and hit on "Indochine-The forbidden city"..
All i can say is the place is much much cooler and very foggy..
Ambience not bad..
MArk given: 7/10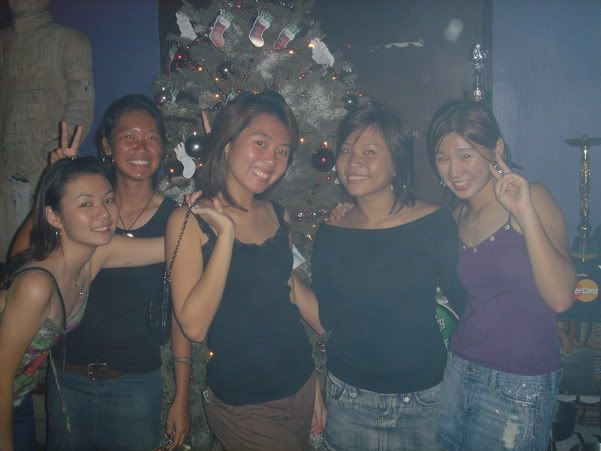 At the entrance of Indochine..Dunno why..But PY get excited about the
xmas tree...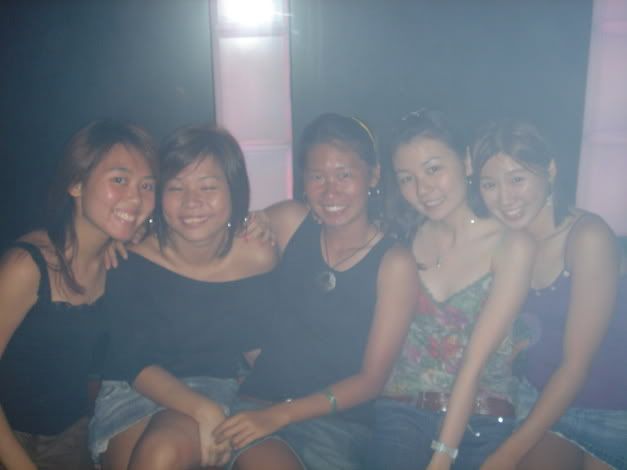 Eh..Why PY close eyes???Got 2nd shot of this with PY's eyes opened..
But I choose this becoz i looked better inside!!!haha!
Me and Bouncer, Jasonz!!!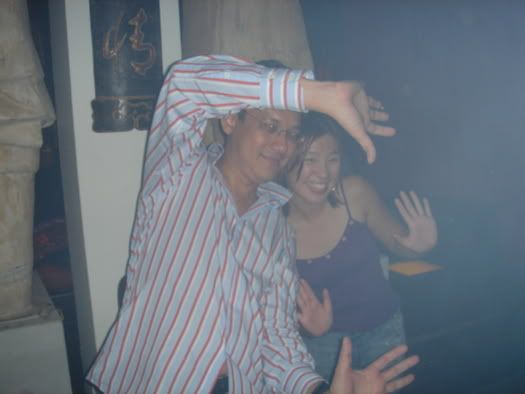 Me & this old man!!!Remember his face..I was supposed to take foto with
the statue..But he just dashed in n blocked my statue!!!
When he did that, I already know he trying to pick us up..
He loitered around us and smiled to me..
I gave him an unwilling smile and ignored him..
Suddenly, he just grabbed Adeline's hand and wanna to drag her to dance..
Adeline resisted..and we was abit stunned..
Lucky our bouncer,Jasonz, who was already clenching his fists and loosening up his joints,
pulled him away to the side from Adeline...
Jasonz gave him that "Come here and a punch from me"face..
Of coz!The guy went off..far away frm us and find his new target..
We all shouted "Hurray Jasonz!Our Hero!"Haha..
After that, nothing happened..only we enjoying ourselves..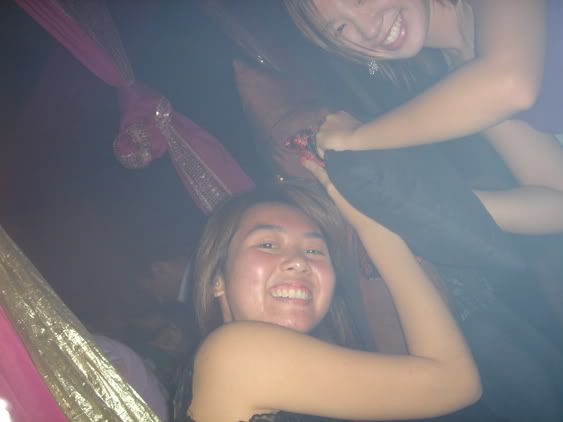 Pillow Fight with Cheryl..
(Adel's phototaking not very gd huh..)
Lesbian Act..
Kissed by Cheryl the SexyMaMa..(freaked out!)
I was just sharing the orange with her..and she went crazy!!!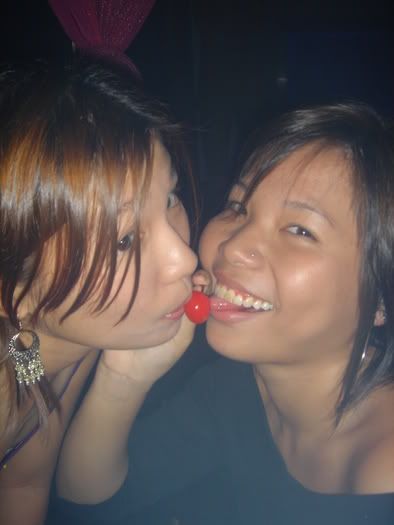 Me and my scandal, Poh Ying!!!
Me and Adel..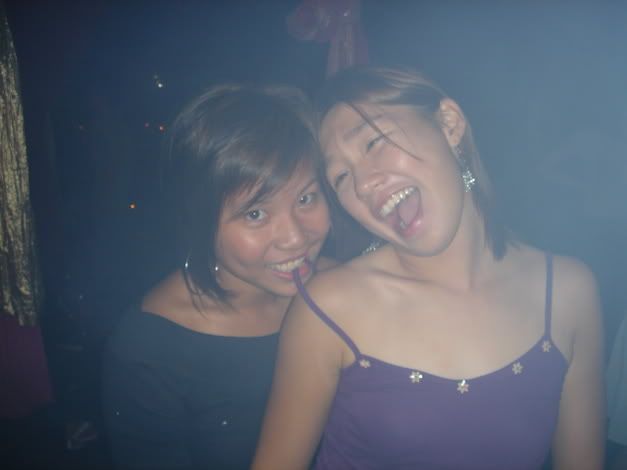 Arghh..!!!Poh Ying horny le!!!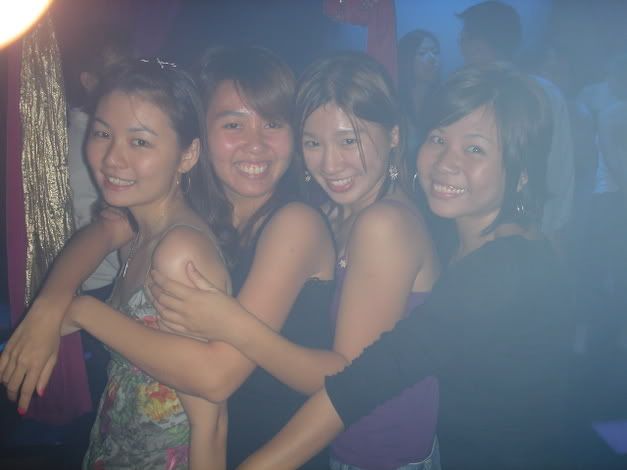 All of us except Rudith!!!My favorite pic!!!
She went off since she got competition the nxt day..
Really have fun with them..dancing with them..
We were rubbing each other(decent way)!!!But was abit scared off by Cheryl's
dancing way..she very violent..u can see frm the kissing part!!!
But luv u girls..we are all stunning pretty girls..hehe!!!
Before I forget..we saw Mr Oh, my HPM tutor cum advisor outside MOS!!!
He was quite pai seh to see us i guess..
Why???Coz we were shouting "Mr oh!Mr oh!"across the street..haha!
Anyway..really like to hang out with u girls..
Gurls Rox!