11 December 2005
Glory Glory Glory!!!
It was a nervous day for many of us..
To many of us, it was probably the first time that we participate in the round ubin marathon..
No lie, I was so nervous that I felt like vomitting..
Before the race, I kept warming up my injured shoulder, hoping it will not collaspe..
U noe..i dun want the effort me n yx put in to be wasted juz becoz of my lousy arm..
U noe hw nervous i was when i was at the starting line???
From the previous experience, I learnt to wait behind others in order not to kana knock n capsized!!!N u noe hw slow those bumboat work..
I was trying to spot my competitors while waiting..n i saw a few of them..sm fat n sm realli small..
We waited quite long before the race started..
*Beep...!*off we went!!!
Very quickly..Me n yx took over those few competitors..
We took over many boats and spot the champion for T2..
We were trying very hard to chase after them..We were near them at several attempt but kept kana blocked by sm ass..
Then we spot our xiaohei infront so I decided to increase my speed to chase after jy..
Dunno wat happen..but suddenly i can't see them..
Like they got magic liddat..went invisible jz liddat!!!
Then I realized there was a NTU T2 chasing us..
I was like "shit"so i increased my speed n tried to maintain it..
Both of us took over one T2 infront..
And it left both our boats to battle..
We kept pulling the dsitance away while they kept trying to close up the distance..
Tell u man..it was a really bitter battle..
We battled for several kilometres b4 We go haywired in direction n lost out to them..
Must be Weizheng they all lah..Kept changing direction n let us kana their backwash..
haha..just kidding..
We continued to chase after them..
But turtle spirit wasn't at my side..
Some huge current swept us to other side so we tried to edge..
And guess what???
Another wave came n went parallel with our boat..
And "Splash!" we go..
"fuck!"is the 1st thing i shouted..
We were so engrossed in chasing that we din notice the huge wave..
I damn dulan when i saw 2 T2 went past us..
Thankful that my turtle spirit save us..
One ACJC T2 came n save us within minutes..
Eventhough they dunno hw to save..but was still grateful to them..
By the time we went back to our boat..
Me n yx were exhausted from the battle..some more still gt ton of water in the boat..
Knowing gt 2 T2 rowed past us..
We endured the tiredness and continue to go on..
We managed to chase after one T2 but not the others..
After the capsize, we were abit demoralized n it was hard for me to stay focused..
I kept looking at turtle n the sprinting pic on the wavebrker..
They were like telling me not to give up and go on..
Yx was quiet after the capsize..I shouted "Jiayou" to her but din get any reply
So I thought she not feeling well..
So i dun want to disturb her and kept toking to myself that we will rch soon..
I tried to encouraged yx along the way..
Every corner I saw..i tot we were rching..
I was freaking tired n wanted to stop when we rch the kelong side..
I dunno what made me go on..But I just wanna 2 take over those T1s infrt of me..
I kept paddling n paddling..then I saw the finishing line..
Yx then told me to sprint after the kelong..
We sprinted after we passed the kelong..I can hear all the cheerings at the beach..
It was so loud that i shouted "Wo yao hui lai le!" while sprinting..
I was very motivated when i saw the team waving to me and so on..
So i let out my last burst and shouted "Fuck it!"..and sprinted till we rch the buoyancy..
Finally we rch!!!I realized how tired I was..my arm were weak..hardly can move..
So happy to rch that i hugged yx!!!
Very soon..the rest of the team came bk!!!
Very soon..we were all taking foto!!!
Never in my life, i felt my life so enriching..
We were like a big family..playing and laughing..
I can see that Cher was extremely happy!!!he was so smiley the whole day!!!
Taking videocam went around taking video on his 3schs- NYJC, CJC and NP!
Well..This marathon had made the 3schs bonded..
And definitely made the whole NP team bonded!!!
Eventhough we did not win anything but we were happy!
Why?
Coz we had did our best and did not give up that 22km race!!!
We certainly did not waste the efforts we put in..but we can b better!!!
We will defintely show result to the school and beat those NJC arrogant pigs!!!
LUV U Guys!!!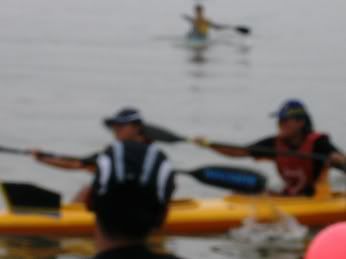 Me and Yixin is action!!!The front one is me!!!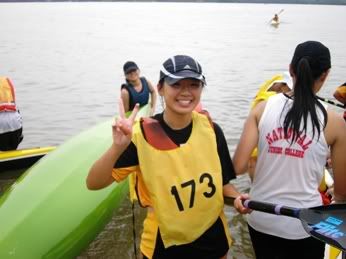 Dunno but Dennis Said i look like Bumble bee finding Honey desperately
when i finished!!!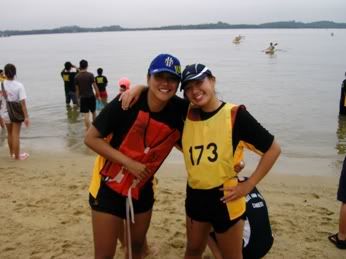 Me and my dearest sister a.k.a partner-Yixin!!!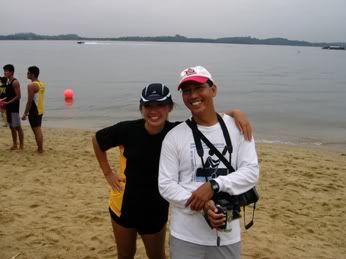 Happy Cher and Me!!!
Many Many Many Bumble Bees with Cher!!!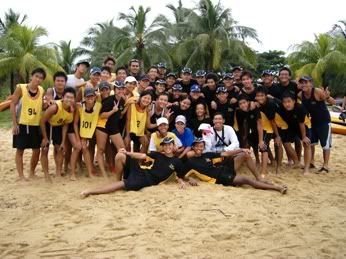 Many Many Many Bumble Bees with CJC, NYJC and Cher!!!
Big Family!!!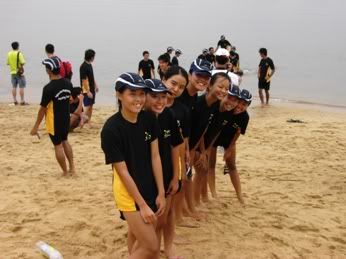 Charbo Power!!!Got 7 of us!!!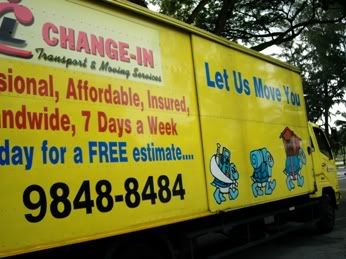 Look what I found??? Turtle oso can move hse!!!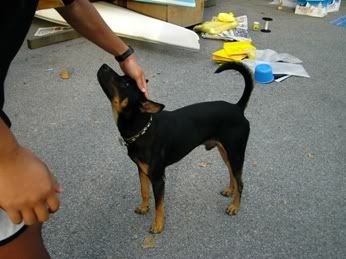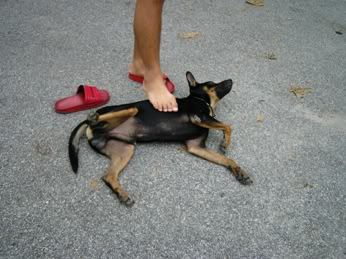 Poor Buddy The Dog!!!Whose leg is that!!!
Ans: Clemence!!!
Had a Great Feast at Lau Pa Sai!!!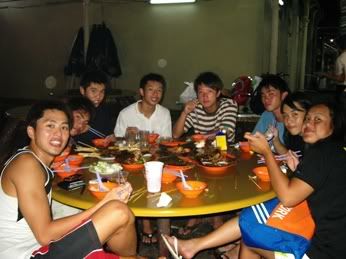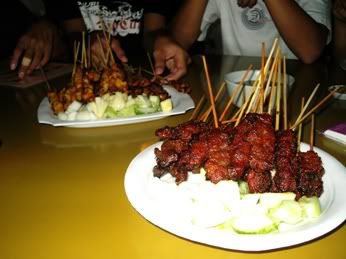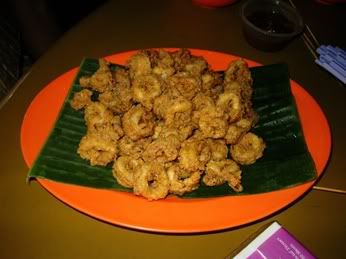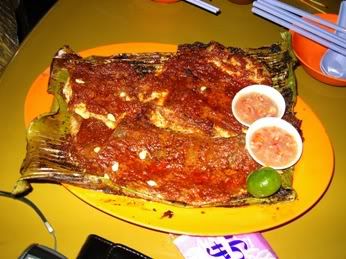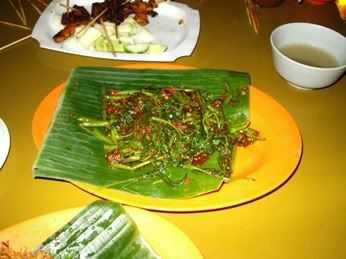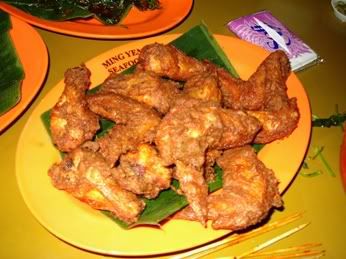 Yummy Yummy!!!Dun drool over ur com!!!
NEWS!!!MUST SEE!!!
For those is wondering who is Guan Xi and Tian LE..
From Left: "Guan Xi", Cheng and "Tian Le"
Can U believe it???